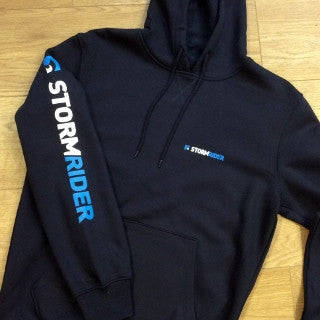 Stormider Hoodie Navy
Only available at the Stormrder Surf Shop in Aberystwyth or exclusivley online at www.stormriderstore.co.uk here's a great looking Hoodie which has been hand finished in Aberystwyth in Wales, UK. Each one is lovingly carried to our local printer... by hand!..... and shipped to you in ultra fast fashion wherever you live in the world. If you're looking for a unique garment, then this is the Hoodie for you. 
Navy Pull On Hoodie
Large Stormrider Logo on Sleeve and Back, Small Logo on Chest, Small AberAdventures Logo on Sleeve.
Drawcord hood
Heavyweight fabric
Care instructions:
We dont do irons... leave them well alone.... lifes too short for irons. Warm wash hang it up. :-)
Wear With Pride And Enjoy The Ride